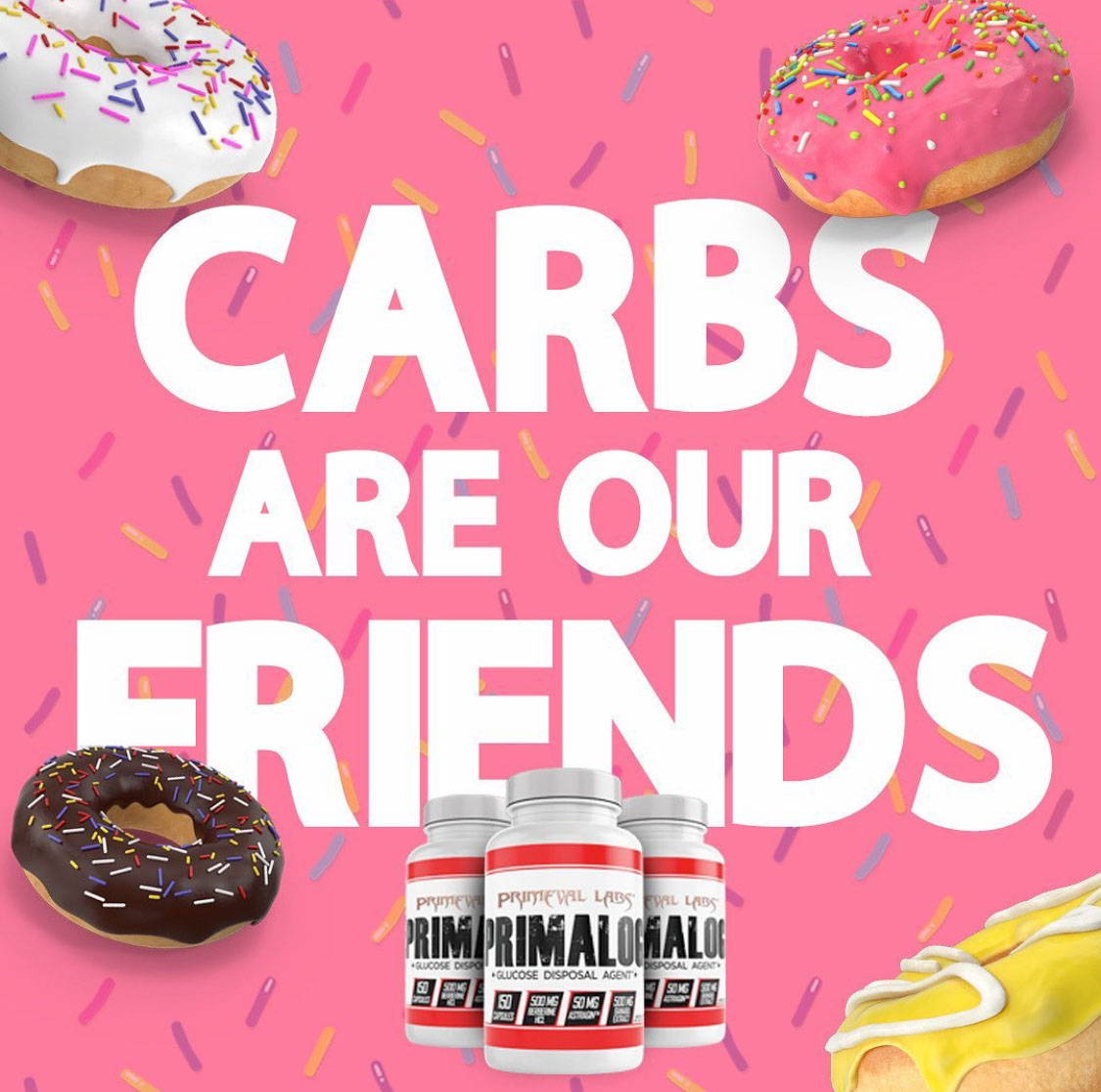 #1 Glucose Disposal Agent
Primalog is an advanced glucose disposal agent (GDA) and nutrient partitioning supplement formulated to support improved carbohydrate utilization and storage with the end goal being greater performance, recovery, and growth.*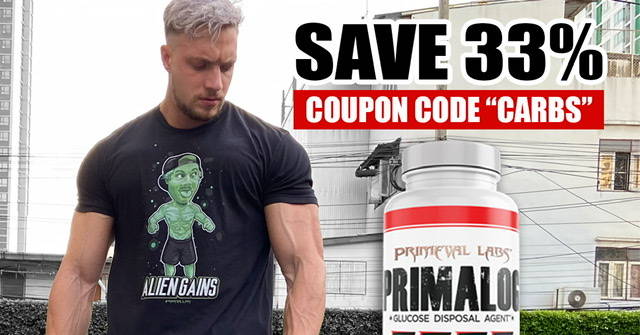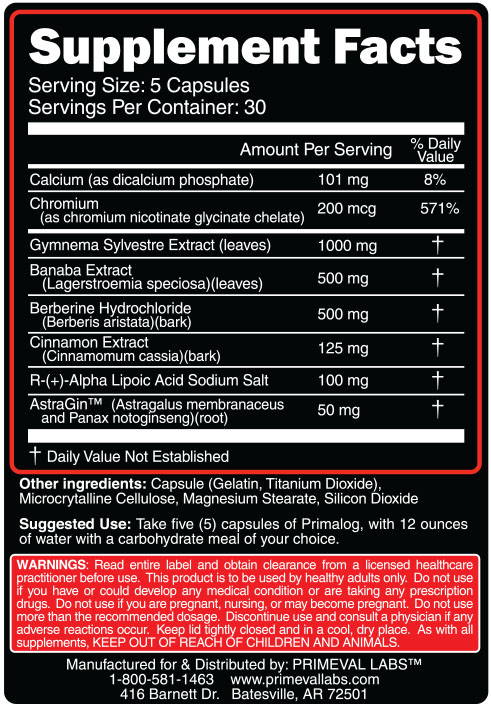 Supports healthy digestion*

Supports carbohydrate metabolism and utilization*

Supports blood sugar control*

Promotes muscle volume and fullness*
Chromium is a trace mineral essential to a number of important functions in the body, including cholesterol synthesis and insulin metabolism.*[1,2] Basically, insulin requires chromium in order to function properly, and without adequate chromium stores, insulin metabolism suffers as does the uptake and utilization of glucose, amino acids, and fats. This means that protein synthesis may be stunted, hindering muscle recovery and growth*
Research also has shown a link between individuals with type 2 diabetes having lower blood levels of chromium than those without the disease.*[1,2] Primalog contains chromium in the form of chromium nicotinate glycinate chelate as opposed to the more commonly used chromium picolinate.* The reason for using this particular form is research suggests that it is 18x more bioactive than other types of chromium.*[3] In fact, some animal studies show it's absorbed and retained 600% more than chromium chloride and 300% more than the frequently used common chromium picolinate!*[4]
Gymnema Sylvestre (1000mg)
Gymnema Sylvestre is a herb native to the central and southern forests of India and Sri Lanka. Also known as cowplant, gymnema has been extensively used in eastern medicine to help support insulin function and reduce diabetes risk.*[5]
Better insulin function promotes stable blood sugar levels, and helps shuttle glucose into skeletal muscles where it can then be used to support energy production and athletic performance.* A comprehensive review of gymnema sylvestre noted it may also help reduce plasma glucose, leptin levels, body weight and even BMI (body mass index).*[6]
Banaba, a.k.a. Lagerstroemia, is a well-known plant, largely due to its antidiabetic properties.*
The leaves of the banaba plant are rich in a compound known as corosolic acid, which is believed to induce GLUT4 translocation and subsequently support glucose control.[7,8] In case you weren't aware, GLUT4 is the insulin-responsive glucose transporter gene in the body. Research has shown that a malfunctioning GLUT4 gene may cause insulin resistance in skeletal muscle as well as diabetes.[9]* Corosolic acid inhibits enzymatic activities of several diabetes-related non-receptor protein tyrosine phosphatases, including PTP1B, which can activate insulin receptor B phosphorylation, making it a viable option for combatting symptoms associated with obesity and diabetes.*
Research also finds that corosolic acid supports glycolysis and reduces gluconeogenesis[10]. Some research has even shown it's beneficial for weight loss too, via inhibition of pancreatic lipase enzyme (the enzyme responsible for fat absorption).*[11] Finally, banaba leaf also has research noting that it may enhance insulin sensitivity and glucose transport, allowing greater glucose control and utilization.*[12,13,14]
Berberine is a fascinating plant that has been documented to possess a wide range of abilities, particularly in regards to its anti-inflammatory and antidiabetic properties.* The compound has been noted in research to enhance glucose uptake into skeletal muscle via AMPK activation.*[15,16]
Note: AMPK (5' adenosine monophosphate-activated protein kinase) is an enzyme that plays a key role in cellular energy balance, and activation of AMPK may increase mitochondrial biogenesis in skeletal muscle cells, reduce fat storage, and improve insulin sensitivity.*[17,18,19] Interestingly enough, berberine also has some data noting it may be able to stimulate glucose uptake into muscle cells by itself even if the cell happens to be insulin resistant.*[20]
Cinnamon is an incredibly popular culinary spice that also exerts a wide range of beneficial biological effects.
Research notes that cinnamon may help reduce the rate at which glucose enters the body as well as improve glucose utilization within cells.[21] Additional studies indicate that cinnamon may help lower blood sugar spikes, fasting glucose and cholesterol levels.[22] Various phenolic compounds within cinnamon, such as catechin, epicatechin, and procyanidin have been noted to inhibit the formation of advanced glycation end products.*[21]
Alpha Lipoic Acid (ALA) is a fatty acid generated by the body and found in the mitochondria of every cell in your body. It is an essential player in energy metabolism and also functions as a powerful antioxidant in the body. * Research notes that alpha lipoic acid (ALA) may help reduce fasting blood sugar], suppress appetite, and increase energy expenditure.*[23,24,25]
AstraGin is a patented blend of highly purified saponins isolated from the Astragalus membranaceous and Panax notoginseng plant.
It has been shown to significantly increase the absorption of various nutrients, including amino acids, vitamins, minerals, phytonutrients, and other dietary supplements, by upregulating the absorption-specific mRNA and transporters, such as SGLT1, CAT1, and GLUT4. AstraGin also supports a healthy guy by repairing damaged intestinal walls and reducing intestinal submucosa inflammation.*[26]
SUGGESTED USE
Consume 5 capsules of Primalog with 12 ounces of water alongside a high-carbohydrate meal.
Disclaimer:
*These statements have not been evaluated by the Food and Drug Administration. This product is not intended to diagnose, treat, cure, or prevent any disease


REFERENCES
A scientific review: the role of chromium in insulin resistance. Diabetes Educ. 2004;Suppl:2-14.
Hua Y, Clark S, Ren J, Sreejayan N. Molecular Mechanisms of Chromium in Alleviating Insulin Resistance. The Journal of Nutritional Biochemistry. 2012;23(4):313-319. doi:10.1016/j.jnutbio.2011.11.001.
Juan A. Cooper, Bryan F. Anderson, Paul D. Buckley, Leonard F. Blackwell; Structure and biological activity of nitrogen and oxygen coordinated nicotinic acid complexes of chromium; Inorganica Chimica Acta; Volume 91, Issue 1, January 1984, Pages 1–9
K. L. Olin, D. M. Stearns, W. H. Armstrong, C. L. Keen; Comparative retention/absorption of 51chromium (51Cr) from 51Cr chloride, 51Cr nicotinate and 51Cr picolinate in a rat model; Trace Elements and Electrolytes; 1994; 182-186;
Kanetkar P, Singhal R, Kamat M. Gymnema sylvestre: A Memoir. Journal of Clinical Biochemistry and Nutrition. 2007;41(2):77-81. doi:10.3164/jcbn.2007010.
Pothuraju, R., Sharma, R. K., Chagalamarri, J., Jangra, S. and Kumar Kavadi, P. (2014), A systematic review of Gymnema sylvestre in obesity and diabetes management. J. Sci. Food Agric., 94: 834–840. doi: 10.1002/jsfa.6458.
Miura T, Itoh Y, Kaneko T, et al. Corosolic acid induces GLUT4 translocation in genetically type 2 diabetic mice. Biol Pharm Bull. 2004;27(7):1103-1105.
Stenbit AE, Tsao T-S, Li J, et al. GLUT4 heterozygous knockout mice develop muscle insulin resistance and diabetes. Nat Med. 1997;3:1096. http://dx.doi.org/10.1038/nm1097-1096.
Pei Z, Liu G, Lubben TH, Szczepankiewicz BG. Inhibition of protein tyrosine phosphatase 1B as a potential treatment of diabetes and obesity. Curr Pharm Des. 2004;10(28):3481-3504.
Zhang Z-Y, Lee S-Y. PTP1B inhibitors as potential therapeutics in the treatment of Type 2 diabetes and obesity. Expert Opin Investig Drugs. 2003;12(2):223-233. doi:10.1517/13543784.12.2.223.
Yamada K, Hosokawa M, Fujimoto S, et al. Effect of corosolic acid on gluconeogenesis in rat liver. Diabetes Res Clin Pract. 2008;80(1):48-55. doi:https://doi.org/10.1016/j.diabres.2007.11.011.
Takagi S, et al; Effect of corosolic acid on dietary hypercholesterolemia and hepatic steatosis in KK-Ay diabetic mice . Biomed Res. (2010)
Miura T, Takagi S, Ishida T; Management of Diabetes and Its Complications with Banaba (Lagerstroemia speciosa L.) and Corosolic Acid . Evid Based Complement Alternat Med. (2012)
Judy WV, et al; Antidiabetic activity of a standardized extract (Glucosol) from Lagerstroemia speciosa leaves in Type II diabetics. A dose-dependence study . J Ethnopharmacol. (2003)
Yin J, Xing H, Ye J. Efficacy of Berberine in Patients with Type 2 Diabetes. Metabolism: clinical and experimental. 2008;57(5):712-717. doi:10.1016/j.metabol.2008.01.013.
Lin W, Huang X, Zhang L, Chen D, Wang D, Peng Q, et al. (2012) BMS309403 Stimulates Glucose Uptake in Myotubes through Activation of AMP-Activated Protein Kinase. PLoS ONE7(8): e44570. https://doi.org/10.1371/journal.pone.0044570
Dong H, Wang N, Zhao L, Lu F. Berberine in the Treatment of Type 2 Diabetes Mellitus: A Systemic Review and Meta-Analysis. Evidence-based Complementary and Alternative Medicine : eCAM. 2012;2012:591654. doi:10.1155/2012/591654.
Godugu C, Patel AR, Doddapaneni R, Somagoni J, Singh M (2014) Approaches to Improve the Oral Bioavailability and Effects of Novel Anticancer Drugs Berberine and Betulinic Acid. PLoS ONE 9(3): e89919. https://doi.org/10.1371/journal.pone.0089919.
Bustanji Y, Taha MO, Yousef A-M, Al-Bakri AG. Berberine potently inhibits protein tyrosine phosphatase 1B: investigation by docking simulation and experimental validation. J Enzyme Inhib Med Chem. 2006;21(2):163-171. doi:10.1080/14756360500533026.
Liu L-Z, Cheung SCK, Lan L-L, et al. Berberine modulates insulin signaling transduction in insulin-resistant cells. Mol Cell Endocrinol. 2010;317(1-2):148-153. doi:10.1016/j.mce.2009.12.027.
Qin B, Panickar KS, Anderson RA. Cinnamon: potential role in the prevention of insulin resistance, metabolic syndrome, and type 2 diabetes. J Diabetes Sci Technol. 2010;4(3):685-693. Published 2010 May 1. doi:10.1177/193229681000400324
Khan, A., Safdar, M., Ali Khan, M. M., Khattak, K. N., & Anderson, R. A. (2003). Cinnamon Improves Glucose and Lipids of People With Type 2 Diabetes. Diabetes Care, 26(12), 3215 LP – 3218. https://doi.org/10.2337/diacare.26.12.3215
Ansar H, Mazloom Z, Kazemi F, Hejazi N. Effect of alpha-lipoic acid on blood glucose, insulin resistance and glutathione peroxidase of type 2 diabetic patients. Saudi Med J. 2011;32(6):584-588.
Kim MS, et al; Anti-obesity effects of alpha-lipoic acid mediated by suppression of hypothalamic AMP-activated protein kinase . Nat Med. (2004)
Cheng PY, et al; Reciprocal effects of α-lipoic acid on adenosine monophosphate-activated protein kinase activity in obesity induced by ovariectomy in rats . Menopause. (2011)
https://nulivscience.com/ingredients/astragin